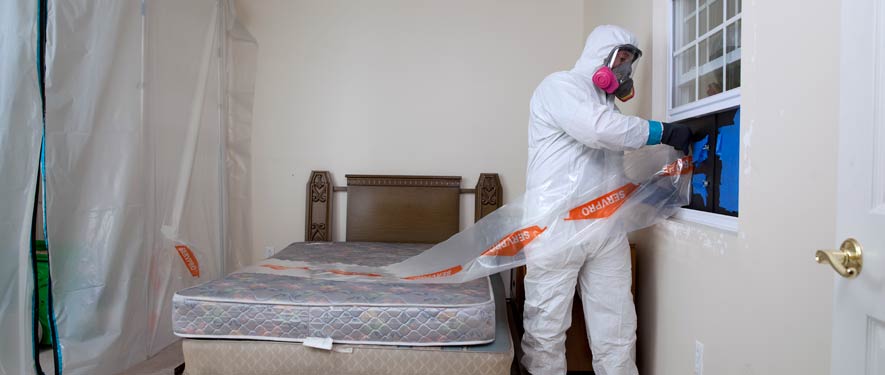 Biohazard Cleanup and Restoration
Is SERVPRO's Biohazard Cleaning Team Experienced?
With years of experience, our biohazard cleaning team is among the most experienced and educated in the restoration industry. This niche services many potential hazards and disasters your home in its occupants might face, requiring professionals to have a broad education for restorative action and cleaning whenever necessary. Our technicians have multiple qualifications from organizations such as:
ABRA – American Bio Recovery Association
OSHA – Occupational Safety & Health Administration
IICRC- Institute of Inspection, Cleaning and Restoration Certification
SERVPRO Hero Ready Program
Do You Need Biohazard Cleaning and Disinfection?
Biological threats and hazardous conditions can often make your need for biohazard cleaning apparent. Following strict safety protocols and using the latest personal protective equipment, we can wholly and swiftly address multiple concerns threatening your home. We help with:
biohazard remediation
sewage cleanup
crime scene cleanup
hazmat companies
hoarder cleaners
rodent clean up services
disinfecting companies
Biohazard cleaning company
Rodent Clean Up Services
Mice, rats, and other vermin can substantially threaten your home with bacterial pathogens. Once these creatures have been removed, thorough cleaning and disinfection are still required to eliminate hazardous particulates and microorganisms.
Do Disinfecting Companies Help With Sewage Cleanup?
Sewage introduces hazardous waste into your property that expose occupents to bacteria. Disinfection plays a significant role in cleaning surfaces and fixtures not directly involved in the backup. Many of our germicides and chlorine-based cleaners can eradicate contaminants on contact.
Please refer to our Biohazard Emergency Tips - Until Help Arrives Guide and follow these tips to protect yourself and your property.
Need Biohazard Cleanup Services?
Call Us Today – (781) 593-6663
The decontamination of a home or business due to trauma, sewage backups, chemical spills, hoarding or other biohazards can be both dangerous and emotional. Specialized training and experience is key when choosing a cleanup company to resolve these circumstances.
We provide cleanup and recovery services for many biohazard situations. These include the following:
Suicide/death accidents
Homicide cleanups
Blood cleanup
Accident cleanup
Hoarding scenes
Animal waste/remains
Chemical spills
Tear gas cleanup
Meth lab cleanup
Common Biohazard Scenarios
Sewage Backups
Sewage backups and dark water intrusions are more than nasty, smelly deposits – these damages also introduce harmful microorganisms into a structure. We remove the sewage, contaminants, and moisture, and help ensure the structure is properly cleaned, disinfected, and deodorized.
Bloodborne Pathogens
We remove and dispose of bodily fluids, tissue and other potentially pathogenic substances resulting from accident, trauma, crime or death. Trained SERVPRO of Lynn / Lynnfield Professionals clean, disinfect and deodorize the structure.
Illegal Drug Manufacturing Labs / Meth Labs
SERVPRO realizes many of the chemicals used in the production of illegal drugs such as "meth" are volatile and can leave harmful residues throughout a structure. We follow federal and state guidelines to properly clean all surfaces.
24 Hour Emergency Service
We are available 24 hours a day—our highly trained technicians are standing by. We have the qualified trained professionals who are ready to respond to these incidents. We will always treat your property and the people involved with the greatest empathy and respect in the face of trying circumstances.
We are proud to serve our local communities:
Lynn
East Lynn
Lynnfield
Wyoma
Nahant
Market Street Lynnfield